Member
Registered: 2010-07-27
Posts: 42
"Shelf"-Export for films
Hey Guys!

With two Guys from Photoshopcaf.de :: Dein Photoshop-Forum who helped me out with the html code, I created an advanced HTML Export-File for the Shelf Template. Now you can see the quantity of your films and the rating of every film is now shown as stars.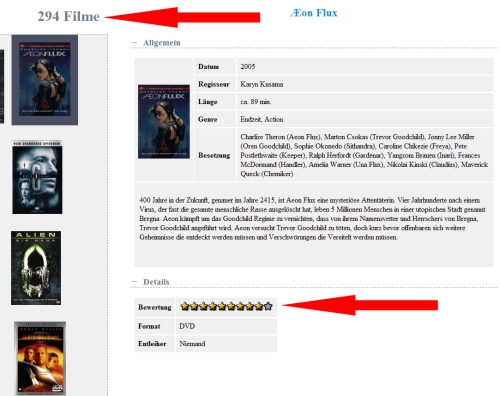 Installation:
Extract the archive
Replace the shelf-file and the shelf.png with the originals
Upload the "xSterne.png" files somewhere and edit the URL at the bottom of the "shelf" File you've extracted.
You find the originals at /share/gcstar/html_models/GCfilms/
Better save the originals as backup somewhere

Have fun!
Last edited by Garion (2011-03-01 19:46:08)
---
Attachments:
Shelf advanced.rar
, Size: 99,493 bytes, Downloads: 586
New member
Registered: 2011-05-23
Posts: 2
Re: "Shelf"-Export for films
---
---
---
---